Test Subject 98
[[|px]]
Concept Artwork.

Appears in

Gender

Unknown (appears to be male)

Race

Clone

Personality

Insane, evil

Status

100% Bobo Fever victim

Test Subject 98 (also known as The Corrupted One or Corrupted JJ or simply 98) is the secondary antagonist in JJ Nikster 3: Eastern Operation.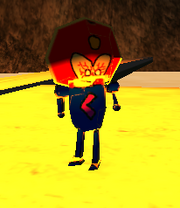 Background
Edit
98 was created by Toshio Yoshida using DNA leftover from The Sultan's Hammer of Bobo. However, during experiments, 98 managed to escape the lab before being finished.
Personality
Edit
In Eastern Operation, 98 is shown to be mentally insane, laughing constantly while fighting JJ/The Sultan in Mount Fuji. Although his DNA is identical to JJ/The Sultan's, 98's poor engineering makes him weaker than The Sultan.
Appearance
Edit
Similar to his DNA, 98's physical appearance is almost identical to JJ/The Sultan's. The only characteristics 98 has that differs him from JJ/The Sultan is missing pupils, vains coming out of his eyes, and a purple arrow on his chest.
Appearances
Edit